Chapin Chamber's Fall Golf Classic
TUESDAY, MAY 2, 2023
The Chamber's 2023 Spring Golf Classic will be held at Timberlake Country Club.
Chapin Chamber partners and non-partners alike, it is time to get your golf crew together for an afternoon of golf, networking and fun!
The Golf Tournament helps us to raise funds for the Chamber including our Annie Epting scholarships given to a senior student at each of our local High Schools each year.
Registration opens at 11:00am for packet pick up, cart and starting hole assignment. The format is 4-man captain's choice with a shot-gun start promptly at 12:00 pm.
Awards will be given for closest to the pin on each par 3, longest drive on holes 2 and 10 and 1st, 2nd and 3rd place low team scores.
Make plans to stay for the 19th Hole After Party including the Awards Ceremony, Raffles and Door Prizes.
To become a sponsor, contact Paul Sadler at 803-345-1100 or paul@chapinchamber.com.
SPONSORED BY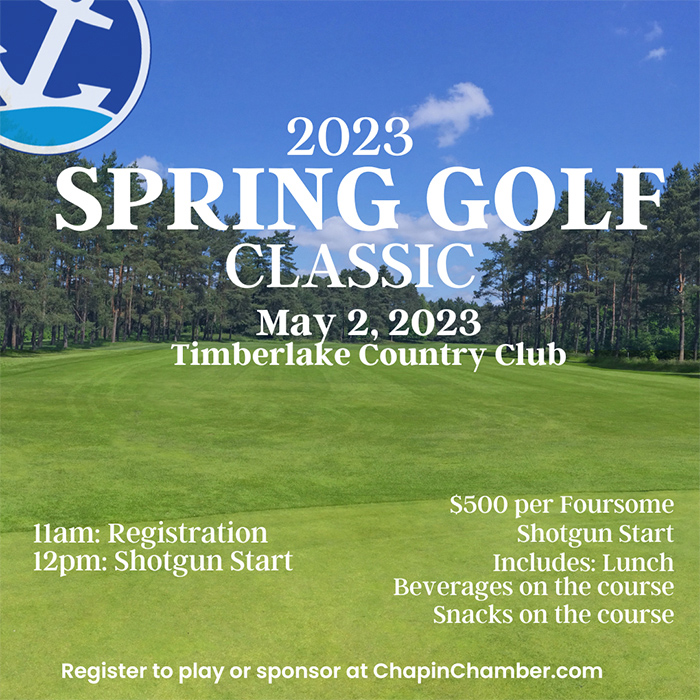 Register to Play
Register a 4 man team or register as an individual. (Individuals will be paired with other players to complete a team).
TEAM of 4 – $500
INDIVIDUAL – $125
Registrations Sold Out – Watch for our Fall Tournament!
Become a Sponsor
PRESENTING SPONSOR – $2500 (Includes golf team of 4, promotional tent at hole, sign displayed at additional tee/hole, recognition at event, pre/post event marketing, name on swag bag and ability to present awards at awards ceremony.)
PLATINUM – $1,200 (Includes golf team of 4, promotional tent at hole, two sign displays at additional hole locations, recognition at event, and pre/post event marketing.)
GOLD – $800 (Includes golf team of 4, promotional tent set up at hole and recognition at event.)
SILVER – $500 (Includes promotional tent set up at hole)
BRONZE – $250 (Includes sign display at hole)
BEVERAGE CART SPONSOR – $1000 (Includes Beverage Cart for you to decorate with your company information and logo. Chamber will provide beverages to distribute. Verbal recognition at the event. May offer promotional giveaways from cart.)
SWAG BAG SPONSOR – $850 (Includes company logo on swag bag, which will be distributed to all golfers. Sponsor may also provide items to be placed in the bag.)
Volunteer
Morning – morning volunteers will help put out sponsorship signs, escort hole sponsors to their assigned holes, staff the registration table and register arriving participants.
Afternoon – afternoon volunteers will help with post play events, awards set up and sponsor sign recovery.
Volunteer registration will open closer to the event date.